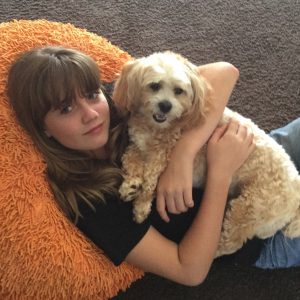 PetCationz is the creation of 11 year old Bella. Sadly the idea of PetCationz was born from a bad experience on returning from an overseas trip.
This is Bella's story.
We have 3 pets, Hemi and Soxxy are our rescue cats and Jed is our Moodle who is a rescue dog. They have the run of the house and being 3 boys, they often argue about who is the boss, dad never argues with them because he knows they think they own the place. I love all my animals and I get very upset when we have to go on holiday because I know they won't be cared for as well as I care for them, but at least I know that they are safe. We went overseas for a month and with a heavy heart I took them out to the kennel and handed them over to someone else to look after them for a whole month. This was a new experience for Jed because he is only 1 year old and in the past we would try to get friends to care for the cats but because we were gone so long, we had to board them.
When we got home, I was so excited to go and pick them up but I wasn't prepared for how badly they had been treated while we were away. The cats hair was matted and they were so stressed they wouldn't come out of the cage. Soxxy is a cat that had been brutalised and is very wary of people at the best of times but on that day he was terrified. Hemi wouldn't stop calling out to me and Jed was shaved to the skin, had a limp and was trembling. They all smelled terrible and we had to drive home with the windows down. I was holding Jed and found a tick on his back! They all had a bath- have you ever tried to bath a cat? They hated their own smell that much that they didn't settle down until they were clean.
It was the worst day of my life! I felt so ashamed that I had put them through such a terrible trauma while I was away having a good time. So I started to look around for places that allow you to take your pet on holiday with you and I was surprised to see how many there were. I wondered if other people had thought about taking their pets away with them as well but didn't know if that was possible or where to take them without trying to sneak them into the hotel.  I thought that a website which provided information on pet friendly venues like accommodation, cafe's and parks, would be a real benefit to pet lovers in Australia and New Zealand,  so my mum helped me to develop PetCationz.
PetCationz is the site for people in Australia and New Zealand to to rate pet friendly accommodation, pet cafe's, grooming businesses, pet training or behaviour classes, pet food and pet products. We may as well cover as many things as we can. So if your pet has had any experience with our categories, please take the time to submit a rating so we can share it with the PetCationz family.
We know that the range of pet food and products available is so huge that sometimes it is hard trying to find the right one for your pet, so we are developing a place on our site where you can see reviews on each of these products so you can decide which one is right for your pet.
Finally, the site will also allow people to contact each other to share ideas and stories about their pets and how much they have changed your lives. I will share stories about my crazy animals and hope you do the same. I will write to you about some of the amazing places around the world that have pet resorts and hotels and try to introduce you to some famous pets, its going to be fun.
I would really appreciate it if you have taken your pet on holidays with you, please let us know about it, so everyone can make the right choice for his or her pets. I want you to become a member of the PetCationz family- because we are all about pets.
Thank you so much for supporting me to get the PetCationz story out there, I hope you can take the time to send me a story on your pet family. We want PetCationz to be the site for people in Australia and New Zealand  to go for information on pets and pet support and just a place to brag about their pets. So no matter where you are, we want to hear from you.
Bella, Jed, Hemi and Soxxy
P.S If you have a business that loves pets and want everyone to know about you, please email us at Petcationz