Guinea Pigs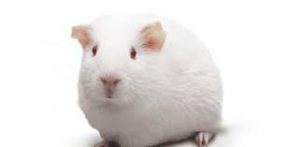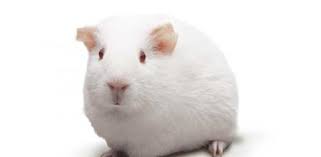 Guinea Pigs are rodents and unlike their name are not part of the pig family nor do they come from Guinea.  Research suggests that they do not exist naturally in the wild and in fact originated in the Andes and have been a household pet in the West since the 16th Century.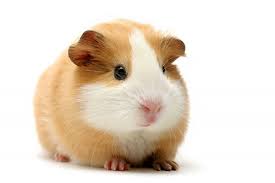 They have a docile nature and respond to handling and feeding and are quite easy to care for.  If handled early in life they seldom bite or scratch.
Guinea Pigs weigh between 700 and 1200gm and measure between 20 – 25cm.  They live an average of 4 to 5 years but can live up to 8 years.  In the Guinness World Records, the longest living guinea pig lived 14 years 10.5 months.
Guinea Pigs are much better when kept in groups of 2 or more and are generally housed in cages lined with wood shavings or similar.  They are messy in their cages with both the male and females, after the cage is cleaned, urinating an dragging their lower body across the floor of the cage to mark their territory.
They generally don't do well when housed with other species.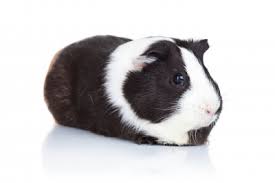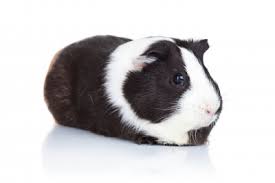 Guinea Pigs are not particularly agile and are poor climbers.  They startle easily and when startled in groups will stampede.  They are good swimmers, however, their eyesight is not particularly good although they do have about a 340º angle of vision and a well-developed sense of hearing, smell and touch.
The guinea pig is able to breed all year with as many as 5 litters per year.  Their gestation period can range from 59-72 days with the average being 65 days and with average litter size of 3. The pups are born well-developed with hair, teeth, claws and partial eyesight unlike many other rodents.   Guinea pig females frequently share the nurturing role where a female may adopt the pup of another.
Males reach sexual maturity at 3-5 weeks, however females can be fertile as early as four weeks of age and can carry litters prior to becoming adults.
Guinea Pigs thrive on a diet of fresh grass hay in addition to food pellets.  Alfalfa is a popular food choice.  Like rats and mice, their teeth grow constantly and they routinely gnaw to prevent their teeth becoming too large for their mouths.  A number of plants are poisonous to them including any plant which grows from a bulb, ivy and oak tree leaves.
Guinea Pigs are very sensitive to heat with a constant ambient temperature over 32ºC sometimes causing death.  They respond poorly to wind, drafts and extremes of humidity outside the range if 30-70%.
Rabbits
Rabbits are great indoor pets but are not low-maintenance pets.  They are social, adorable and have a ton of personality, however, a bored bunny can get into a lot of mischief!
If you get allergies to hay or some grasses, then a rabbit is not for you.
Rabbits live to over ten years of age, so are a long term commitment.  They do not re-locate or travel well.
For more information:
Victoria State Government Guidelines on Keeping Pet Rabbits
What rabbits can and can't eat by "hoofia"
| | | |
| --- | --- | --- |
| | Agente Bleu | These rabbits have short and rounded ears.  A very thick and silky coat.  They have a bluish white top colour, blue eyes and the adult weighs 2.72kg. |
| | British Giant | A large six rabbit with a long broad body.  They have a thick fur which in Australia is brown and opal.  The adult male weighs 5.7kg. |
| | Californian | The Californian has a solid body with very thick fur.  They are pure white with markings of chocolate, blue or lilac on the nose, ears, feet and tail.  The adult male weighs up to 4.4kg. |
| | Cashmere Lop | A compact rabbit with a dense silky coat.  They come in various colours and the adult weighs approx. 2.2Kg |
| | Chinchilla Giganta | A finely boned rabbit with a long graceful body.  Their fur is dense and silky.  The adult should not weigh more than 5.5kg. |
| | Dutch | A compact rabbit with a short glossy coat.  They come in various colours and the adult weight should be 2.2kg. |
| | Dwarf Lop | A short, thickset rabbit with a dense coat.  They come in various colours and the ideal adult weight is 2kg. |
| | English | This rabbit has a moderate body length with a short, tight coat.  They come in black, blue, tortoiseshell, chocolate and grey colouring on a white base.  The adult weighs up to 3.6kg. |
| | English Angora | A broad rabbit with a short head and arched back.  The coat is long, thick and silky and the adult should weigh 3kg. |
| | Fox (Silver) | These rabbits have a body of moderate length with a dense silky coat and come in black, blue, chocolate or lilac.  The adult should weigh about 3kg. |
| | French Lop | A massively large rabbit.  The coat is dense and they come in various colours.  The adult weighs a minimum of 4.6kg. |
| | German Angora | Their body should have good width and the ideal coat length should be 4 inches.  The adult male weighs slightly less than the female at just over 4kg. |
| | Jersey Wooly | A short, compact rabbit with a longer overcoat of up to 76mm.  They come in various colours with the ideal adult weight of 1.36kg. |
| | Harlequin | A firm, muscular bodied rabbit with a very dense and silky coat.  Coming in various colours the adult should not weigh more than 3.6kg. |
| | Mini Cashmere Lop | Exactly the same as the Cashmere Lop except these fellows should not weigh more than 1.6kg. |
| | Miniature Lop | A compact body with no visible neck their coat is dense.  They come in various colours and the ideal adult weight is 1.5kg. |
| | Mini Rex | Exactly the same as the Standard Rex except for their weight – the adult Mini Rex should weigh a maximum of 2.04kg. |
| | Netherland Dwarf | This rabbit has a short, compact body with a short, dense coat.  Coming in various colours their ideal weight is less than 1kg. |
| | Plush Lop | This breed is still in development but is slightly heavier than the Dwarf Lop rabbit.  Their coat should short like the Rex and their adult weight no more than 1.19kg |
| | Polish | A fine boned, small breed with a short and fine coat.  They come in various colours with an adult maximum weight of 1.13kg. |
| | Rex (Standard) | A medium boned rabbit with the shortest coat of all rabbit breeds.  They come in various colours and the adult should be no heaver than 3.6kg. |
| | Satin | A moderate length rabbit with a dense coat with a satin like texture.  They come in various colours and the maximum adult weight should be 3.62kg. |
| | Swiss Fox | This rabbit has a strong well rounded body with a long coat up to 6cm.  They come in various colours and the adults weight up to 4kg. |
| | Tan | With a short body these rabbits have a fairly short coat.  coming in Black & Tan, Blue & tan, Chocolate & tan and lilac & tan the adult weighs up to 2.04kg. |